Daily Devotions Announcement
For nearly two years, I have been writing a series of daily devotions called, "The Other Six." It's been something I enjoyed greatly.
Right now, however, it has become difficult because my computer won't log into our website (don't know why) and I'm trying to play catch-up with church work and finishing up a summer seminary class. 
So, for now, I need to stop writing the daily devotions. I hope to restart in a couple of weeks.
Stay In The Word!
In the mean time, don't fall out of the habit of having a daily devotion. There are lots of good devotions out there, but one I'd like to recommend which I like a lot are the daily devotions from Lutheran Hour Ministries.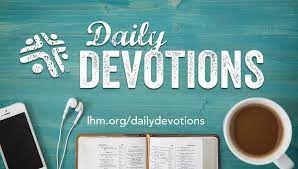 You can find the Lutheran Hour Ministries daily devotions by clicking the link below:
https://www.lhm.org/dailydevotions/default.asp?date=20210729
FYI – Lutheran Hour Ministries also has an app for the devotions you can get for you phone. They also have podcasts, sermons, Bible studies, and a lot more.
Thank you for your understanding and I pray you are blessed by Lutheran Hour's wonderful devotions.
God bless!!
In Christ's Service,
Pastor Kurt