"Therefore,  if anyone is in Christ, he is a new creation – the old has passed away; behold, the new has come." 2 Corinthians 5:17
New Years is always exciting.  It's a time of rebirth.  It's a time to start anew.
The Bible tells us that when we receive faith in Jesus we are made new.  We are a new creation.  The old self was enslaved to sin and spiritually dead.  But, now, we have been made alive in Christ and freed from our bondage to sin.  It's the ultimate fresh start.
There's a difference, however, between the New Year restart and the one we have in Christ.  While we may have great hope for this next year, it's not guaranteed.  Jesus, however, is always true to His promises.  The changes in this new year are often based on our efforts (dieting, getting a new job, taking more time for the family, etc.), but the new life we have in Jesus is based on His work and the work of the Holy Spirit.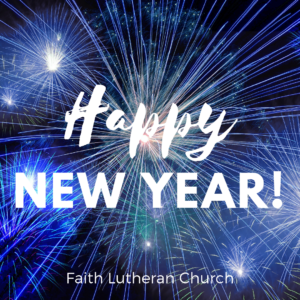 So, Happy New Year!
I pray this coming year will be a great one; but however this year ends goes, remember that God is with you and the new life He has given you is sure.  His promises are true.  And, where we may fail at some (or all) of our resolutions, Jesus never fails.
In Christ's Service,
Pastor Kurt
Faith Lutheran Church, Wesley Chapel, FL
Worship services on Sundays at 11am
27221 Foamflower Blvd. Wesley Chapel, FL 33544
(813) 602-1104