Order of Service for July 31
You are invited to worship with us at 11:00 am on Sunday, July 31, 2022.  Below, you will find the Order of Service so you can follow along and participate in the worship service. If you would prefer, you can also download a bulletin here:
Before we start, please share the live stream on your favorite social media site and invite your friends.
Worship Service for July 31, 2022, at 11 AM
Welcome
Invocation
Confession and Forgiveness:
P: When we come into the presence of God we cannot help but see our sinfulness. God does not require us to cleanse our own sin and be perfect of our own power for, surely, we could never achieve this. Instead, He tells us to come as we are and receive His great mercy.
Song: Come As You Are
Verse 1:
Come out of sadness, from wherever you've been
Come broken-hearted, let rescue begin
Come find your mercy. Oh, sinner come kneel
Earth has no sorrow that Heaven can't heal
Earth has no sorrow that Heaven can't heal
Chorus:
So lay down your burdens. Lay down your shame
All who are broken, lift up your face
Oh, wanderer come home. You're not too far
So lay down your hurt, lay down your heart
Come as you are
Verse 2:
There's hope for the hopeless, and all those who've strayed
Come sit at the table, Come taste of the grace
There's rest for the weary, rest that endures
Earth has no sorrow that Heaven can't cure
Chorus:
So lay down your burdens, Lay down your shame
All who are broken, Lift up your face
Oh wanderer come home, You're not too far
So lay down your hurt, Lay down your heart
Come as you are
Bridge:
Come as you are. Fall in his arms. Come as you are.
 (a time of silence to reflect and personally confess our sins)
C: Heavenly Father, we confess that we have sinned against you and each other. We are truly sorry and we humbly repent. For the sake of your Son Jesus Christ and His suffering and death on the cross, please forgive us and help us to live according to Your ways. Amen
Verse 3:
There's joy for the morning. Oh, sinner be still
Earth has no sorrow that Heaven can't heal
Earth has no sorrow that Heaven can't heal
Chorus
P: The Lord our God is merciful and gracious, longsuffering, and abounding in goodness and truth, keeping mercy for thousands, forgiving iniquity and transgression and sin.  Therefore I announce unto you the grace of our Lord Jesus Christ.  In His stead and by the command of my Lord Jesus Christ, I forgive you all your sins in the name of the Father and of the Son and of the Holy Spirit.
C: Amen.
Song of Praise and Thanksgiving – God So Loved
Come all you weary. Come all you thirsty
Come to the well that never runs dry
Drink of the Water. Come and thirst no more
Come all you sinners. Come find His mercy
Come to the table, He will satisfy
Taste of His goodness. Find what you're looking for
Chorus 1:
For God so loved the World that He gave us
His One and only Son to save us
Whoever believes in Him will live forever
Bring all your failures. Bring your addictions
Come lay them down at the Foot of the cross
Jesus is waiting There with open arms
Chorus 1
Chorus 2:
The power of Hell forever defeated
Now it is well, I'm Walking in freedom
For God so loved, God so loved the world
Bridge:
Praise God, praise God, From whom all blessings flow
Praise Him, praise Him for the Wonders of His love
(Repeat)
His amazing love
Chorus 1
Chorus 2
Epistle Reading – Colossians 3:1-11
If then you have been raised with Christ, seek the things that are above, where Christ is, seated at the right hand of God. Set your minds on things that are above, not on things that are on earth. For you have died, and your life is hidden with Christ in God. When Christ who is your life appears, then you also will appear with him in glory.
Put to death therefore what is earthly in you: sexual immorality, impurity, passion, evil desire, and covetousness, which is idolatry. On account of these the wrath of God is coming. In these you too once walked, when you were living in them. But now you must put them all away: anger, wrath, malice, slander, and obscene talk from your mouth. Do not lie to one another, seeing that you have put off the old self with its practices and have put on the new self, which is being renewed in knowledge after the image of its creator. Here there is not Greek and Jew, circumcised and uncircumcised, barbarian, Scythian, slave, free; but Christ is all, and in all.
Reader: This is the Word of the Lord.
C: Thanks be to God.
Gospel Reading – Luke 12:13-21
Someone in the crowd said to him, "Teacher, tell my brother to divide the inheritance with me." But he said to him, "Man, who made me a judge or arbitrator over you?" And he said to them, "Take care, and be on your guard against all covetousness, for one's life does not consist in the abundance of his possessions." And he told them a parable, saying, "The land of a rich man produced plentifully, and he thought to himself, 'What shall I do, for I have nowhere to store my crops?' And he said, 'I will do this: I will tear down my barns and build larger ones, and there I will store all my grain and my goods. And I will say to my soul, "Soul, you have ample goods laid up for many years; relax, eat, drink, be merry."' But God said to him, 'Fool! This night your soul is required of you, and the things you have prepared, whose will they be?' So is the one who lays up treasure for himself and is not rich toward God."
P: This is the Gospel of the Lord.
C: Praise be to You, o Christ.
Children's Message (Children dismissed to Children's Church)
Sermon Hymn – Take My Life And Let It Be
Verse 1:
Take my life and let it be   Consecrated, Lord, to Thee;
Take my moments and my days,   Let them flow in ceaseless praise.
Verse 2:
Take my hands and let them move   At the impulse of Thy love;
Take my feet and let them be   Swift and beautiful for Thee.
Verse 5:
Take my will and make it Thine,   It shall be no longer mine;
Take my heart, it is Thine own,   It shall be Thy royal throne.
Verse 6:
Take my love, my Lord, I pour   At Thy feet its treasure store;
Take myself, and I will be   Ever, only, all for Thee.
Sermon – "It's All Meaningless Except for This"
Sermon Passage: Ecclesiastes 1:2, 12–14; 2:18–26
Vanity of vanities, says the Preacher,
    vanity of vanities! All is vanity…
…I the Preacher have been king over Israel in Jerusalem. And I applied my heart to seek and to search out by wisdom all that is done under heaven. It is an unhappy business that God has given to the children of man to be busy with. I have seen everything that is done under the sun, and behold, all is vanity and a striving after wind…
…I hated all my toil in which I toil under the sun, seeing that I must leave it to the man who will come after me, and who knows whether he will be wise or a fool? Yet he will be master of all for which I toiled and used my wisdom under the sun. This also is vanity. So I turned about and gave my heart up to despair over all the toil of my labors under the sun, because sometimes a person who has toiled with wisdom and knowledge and skill must leave everything to be enjoyed by someone who did not toil for it. This also is vanity and a great evil. What has a man from all the toil and striving of heart with which he toils beneath the sun? For all his days are full of sorrow, and his work is a vexation. Even in the night his heart does not rest. This also is vanity.
There is nothing better for a person than that he should eat and drink and find enjoyment in his toil. This also, I saw, is from the hand of God, for apart from him who can eat or who can have enjoyment? For to the one who pleases him God has given wisdom and knowledge and joy, but to the sinner he has given the business of gathering and collecting, only to give to one who pleases God. This also is vanity and a striving after wind.
Reader: This is the Word of the Lord.
C: Thanks be to God.
Prayers: Text in prayer requests to (813) 602-1104
Nicene Creed
I believe in one God, the Father Almighty, maker of heaven and earth and of all things visible and invisible.
And in one Lord Jesus Christ, the only-begotten Son of God, begotten of His Father before all worlds, God of God, Light of Light, very God of very God, begotten, not made, being of one substance with the Father, by whom all things were made; who for us men and for our salvation came down from heaven and was incarnate by the Holy Spirit of the virgin Mary and was made man; and was crucified also for us under Pontius Pilate. He suffered and was buried. And the third day He rose again according to the Scriptures and ascended into heaven and sits at the right hand of the Father. And He will come again with glory to judge both the living and the dead, whose kingdom will have no end.
And I believe in the Holy Spirit, the Lord and Giver of Life, who proceeds from the Father and the Son, who with the Father and the Son together is worshiped and glorified, who spoke by the prophets. And I believe in one holy Christian and apostolic Church, I acknowledge one Baptism for the remission of sins, and I look for the resurrection of the dead and the life of the world to come. Amen.
The Lord's Prayer
Our Father who art in heaven, hallowed be Thy name, Thy kingdom come, Thy will be done on earth as it is in heaven.  Give us this day our daily bread; and forgive us our trespasses as we forgive those who trespass against us; and lead us not into temptation, but deliver us from evil.  For Thine is the kingdom and the power and the glory forever and ever.  Amen
Words of Institution
Peace
P: The peace of the Lord be with you all.
C: And also, with you.
P: We greet each other in the peace of Christ.
Distribution
Prayer
Benediction
Closing Song – "How Great Thou Art
O Lord my God when I in awesome wonder,
Consider all the works thy hand has made,
I see the stars, I hear the rolling thunder,
Your power throughout the universe displayed.
Chorus:
Then sings my soul, my savior God to Thee,
How great Thou art, how great Thou art.
Then sings my soul, my savior God to Thee,
How great Thou art, how great Thou art
End: (repeat last line)
Verse 4:
When Christ shall come, with shout of acclamation,
And take me home, what joy shall fill my heart.
Then I shall bow, in humble adoration,
And then proclaim: "My God, how great Thou art!"
Chorus
Offering
Upcoming Events
August – Dates/Times TBD –Financial Peace Class
A sign-up sheet is in the back by the offering plate and we will email out a sign-up link.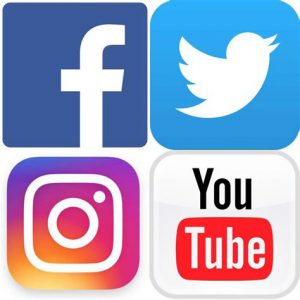 We Need Your Help!
We want to show people what we, as a church, do beyond Sunday morning worship. This is where I need your help. When you are at these events, please take pictures and/or videos and send them to me so I can post them on our Social Media.
If you have pictures from past events send those to me as well. Also, if you have ideas of other stuff we should post on Social Media please let me know.
Thank you!!
In His Service,
Aaron Shuck
Note – We didn't include Aaron's email on this page because spammers scrape web pages for email addresses and we don't want Aaron to be spammed. You can download the bulletin which has Aaron's email in it or use the contact us form on the website to request Aaron's email address.
Faith Lutheran Church, Wesley Chapel, FL
Worship services on Sundays at 11am
27221 Foamflower Blvd. Wesley Chapel, FL 33544
(813) 602-1104