"He descended into hell." – Apostles' Creed
This is one of the lesser-discussed lines of the Apostle's Creed, but one which we say every time we profess the creed. So, what are we saying when we proclaim Jesus descended into hell?
"For Christ also suffered once for sins, the righteous for the unrighteous, that he might bring us to God, being put to death in the flesh but made alive in the spirit, in which he went and proclaimed to the spirits in prison" 1 Peter 3:18–19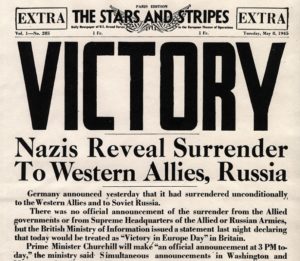 The Proclamation
This is one of the headlines the day after the Nazi surrender, marking the end of World War II in Europe. The war was over and victory was being proclaimed.
Jesus suffered and died on the cross to save us from our sins. It was on that cross that He paid the price for our sins. Just before He died, He said, "It is finished." His sacrifice was complete. Then, He was buried in the tomb.
After this, 1 Peter 3 tells us Jesus was made alive in the Spirit and then He descended into hell, proclaiming His victory.
Colossians 2:15 says:
"He disarmed the rulers and authorities and put them to open shame, by triumphing over them in him."
Christ's Exultation
This is the first act of Jesus' exultation. Jesus, at His incarnation, was in a state of humiliation (humility). The God of the universe became man, lived in perfect obedience for us, served us, and then suffered and died for us.
Now, having completed His work of redemption, Jesus enters into His exultation where He is made alive the Spirit, descends into hell to proclaim victory, appears to His disciples to show His resurrection, and then ascends to heaven and sits at the right hand of the Father.
Think of His descent into hell as a victory lap. I like how it's stated in the Solid Declaration (from the Book of Concord)
"We simply believe that the entire person [Jesus Christ], God and man, descended into hell after the burial, conquered the devil, destroyed hell's power, and took from the devil all his might" (Solid Declaration, Article IX)
What Does This Mean to Me?
Imagine living in war-torn France and seeing the headline above that victory was theirs and the war was over. What comfort and relief they must have felt, What joy!
1 Peter 3 is being written to Christians suffering under persecution. Christians who may face death, itself, for their faith. Peter is proclaiming the hope and victory of Jesus Christ into their situation. Jesus suffered and died so we wouldn't have to go to hell.
In Christ's descent to hell, we find great comfort and joy. Jesus has defeated death and hell. He was able to go in there, declare victory, and leave. This is the authority and power of our Lord and savior. No matter what your situation, if Jesus is for you, who can be against you?!
Dear Jesus,
Victory is Yours! You also share that victory with us. When we face trials and suffering in life, remind us of Your resurrection. Remind us of Your descent into hell. Remind us of your victory and that we have victory in You.
Amen
In Christ's Service,
Pastor Kurt